Our apartment house in Čistá in the Krkonoše offers its premises for all clients throughout the year. The maximum capacity is 26 people, which is divided into four apartments.
Each apartment is fully equipped, in the kitchen you will find an induction hob, convection oven, microwave oven, coffee maker, toaster, toaster, kettle and complete kitchen equipment for cooking. The bedrooms are equipped with a spacious wardrobe, a double bed with bed linen, bedside tables, dressing tables with stools. In the living room there is a comfortable folding corner sofa set, a coffee table and a high-pile carpet. The bathrooms are fully equipped, washing machine with dryer, hair dryer, large mirror and lockers for storing things. In each apartment, coffee for the coffee machine, tea, tablets for both the dishwasher and the washing machine, bath towels and towels are included in the price. Basic ingredients such as sugar, salt and pepper will also please. Of course, there is a dish sponge, absorbent cloth and detergent in the kitchen.
Unfortunately, pets are not welcome.
The sauna is not part of any of the specific apartments, but is located in the apartment building. Sauna reservation is required at least 24 hours in advance.
Smoking of cigarettes or electronic cigarettes is not allowed in the apartment. There is a designated smoking area in front of each apartment.
Arrival to the apartments
Access to the apartments from Vrchlabí, Trutnov is from the main street (road 297), in front of the chimney of the former paper mill, it is necessary to turn left up the hill and keep going straight. Then you need to take the second left turn downwards and continue straight again until you reach the house.
Parking is provided directly in front of the house, where there is one parking space for each apartment.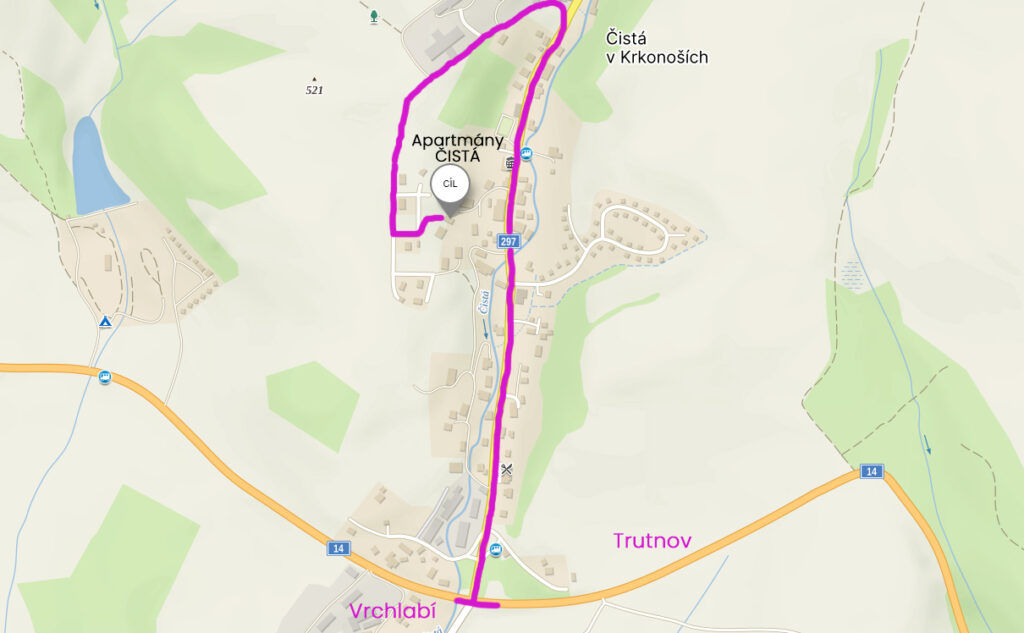 Apartment No.1 - 103 m² (bottom left)
6 – 8 people, 3 bedrooms, equipped kitchen, living room, fireplace, terrace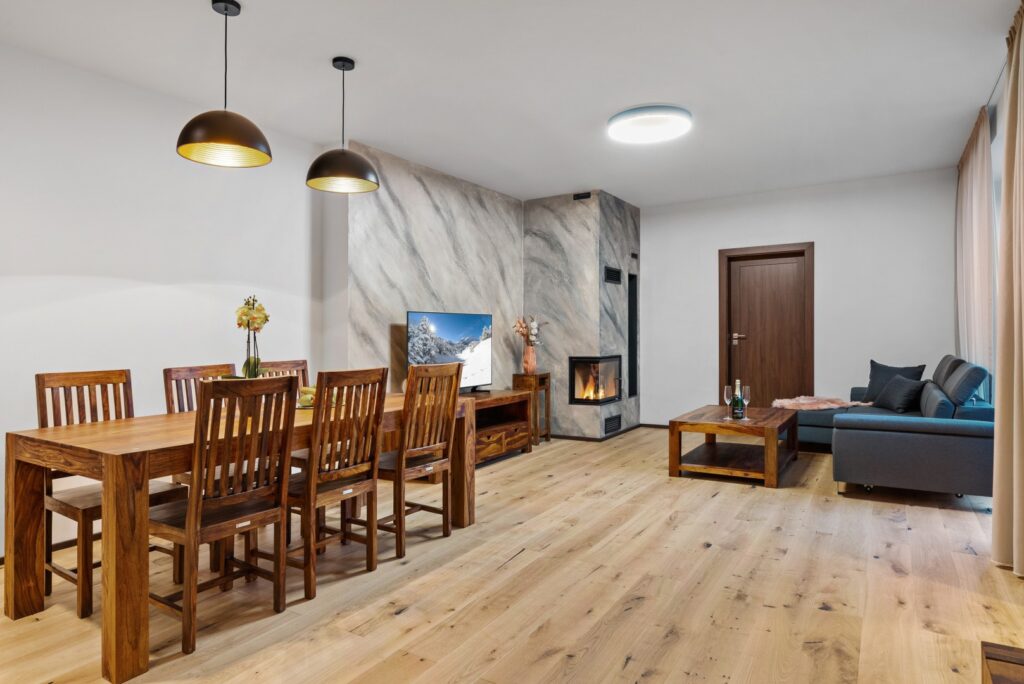 Apartment No.2 - 82 m² (bottom right)
4 – 6 people, 2 bedrooms, sauna, equipped kitchen, living room, fireplace, terrace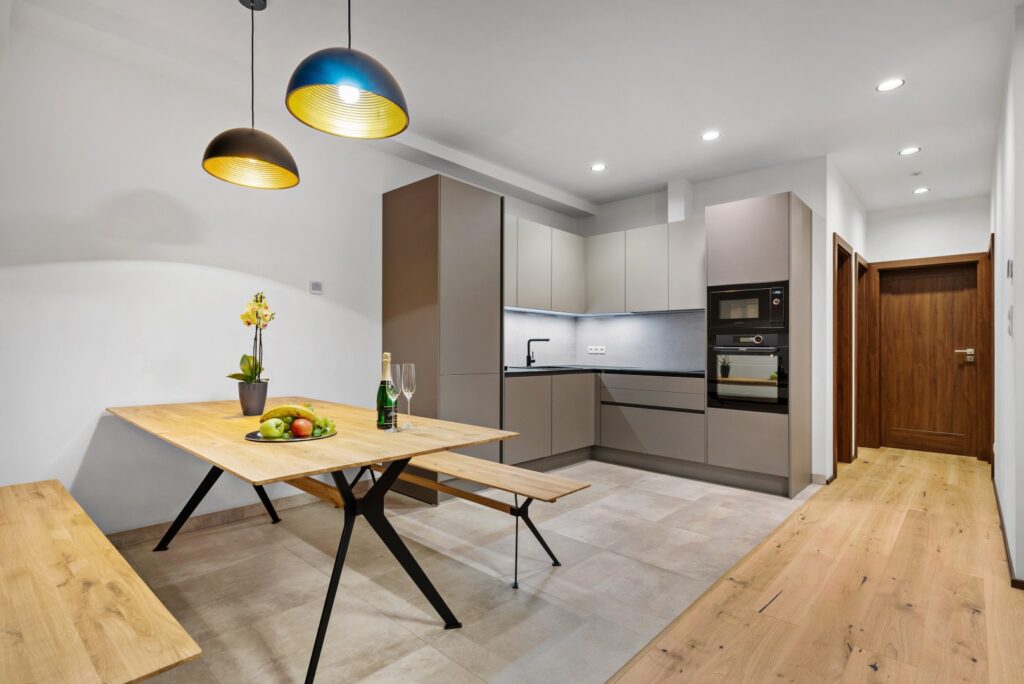 Apartment No.3 - 90 m² (in the middle)
4 – 6 persons, 2 bedrooms, terrace 90 m2, equipped kitchen, living room, fireplace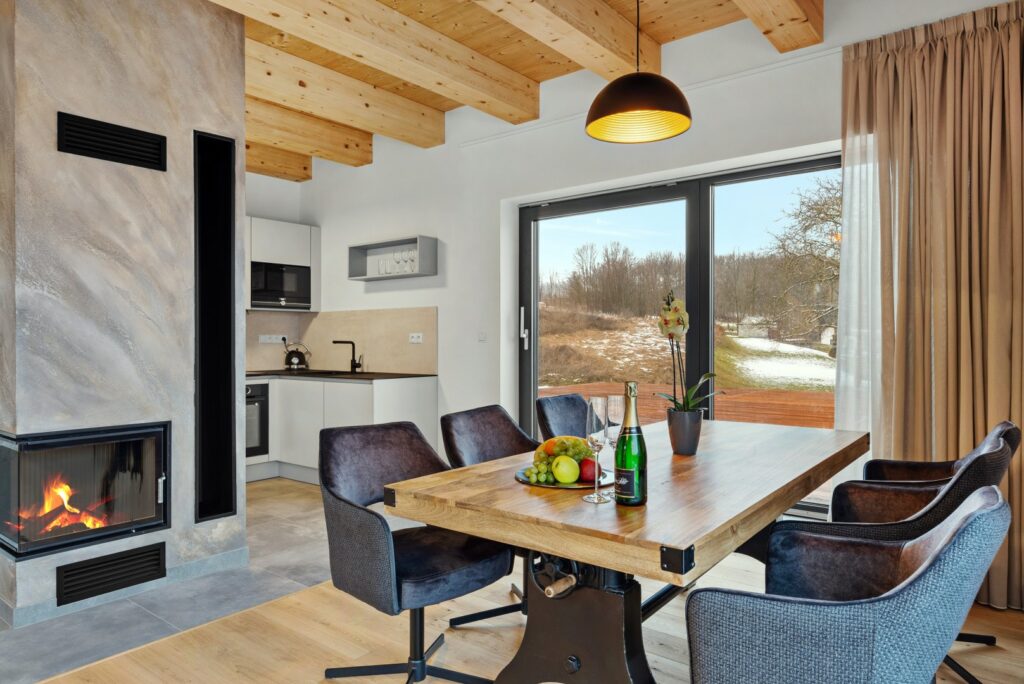 Apartment No.4 - 89 m² (attic)
4 – 6 people, 2 bedrooms, equipped kitchen, living room, fireplace